I am working on another design alongside my 2 metre illuminated border (which is in the corner in disgrace – I am cranky with it right now, not sure if my colours are right).  I fell in love with the cover of St Cuthbert's gospel, also known as the Stonyhurst Gospel.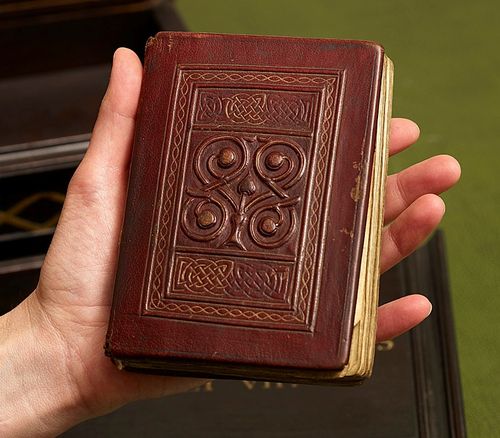 This picture is found on the British Library blog site:  http://blogs.bl.uk/digitisedmanuscripts/2011/07/the-st-cuthbert-gospel.html
The book is extraordinarily preserved, taken from St Cuthbert's coffin (whose body was also extraordinarily preserved!) and is thought to have been made during the 7th Century.
Ink pigments of yellow and blue remain in part in the cover.  My original intention was to reproduce the embroidery design with the same dimensions of the book cover in mind.  When I put needle to linen, I used brown linen and colours according to the ink pigment.  I also researched illuminations produced from the two leading contenders where the book may have been made:  Wearmouth-Jarrow and Lindisfarne.
 I came across this extraordinary manuscript from Wearmouth-Jarrow – look at all of those red skinned books in the cupboard, so similar to the St Cuthbert Gospel!  Looking at the illuminations produced and searching for those pigment traces, I soon became lost in a vast world of incredible richness, colour and design.  Contemporary book designs were indeed staggeringly beautiful.  I am in awe at the craftsmanship and artistic That dddgenius of the period.
I wanted to present in my embroidery design, an attempt at what the original may have looked like, a poor offering I am certain.  I spent 8 hours carefully stitching – it was not going to work!  I gave up.
That night I had a dream which caused me to accept that I was dealing with fragments of a cover.  As far as the cover was concerned, fragments is all that is left for us to see… I felt my stitching come to a new place, a deeper and more profound place.  All I could do was to adorn and lovingly attend to the artefact that was left.
I have felt such content and a lasting peace.  I am going to stitch the design in simplicity, humbled, and lovingly restore in full knowledge that I am only seeing in part.  I need to do the design larger than the original book and I am still musing on the colours.  Some aspects I am thinking of grafting in from manuscripts produced at the same time and place.  I have such a deep affection for this design – more than my original attempt at its physical beauty could ever have held.
I must note that the language of the dream involved a lot of animals in relaying the understanding to me – and I was amazed to find that St Cuthbert was a great lover of animals to such an extent that a duck was named after him – the Cuddy Duck.
I have experienced something very profound with this design.  Rather than trying to resuscitate something dead and suggest what may have been – I sense that I am about to stitch with great humility and love – and carefully attend to something that is very much still vivid and alive.  I am deeply grateful.